The PSA Inputs page allows you to select the parameters that you would like to include in a probabilistic sensitivity analysis (PSA), and the sampling distributions that should be used for each. To access the PSA Inputs page, click on

in the Navigation Sidebar on the left side of your screen. Then click on

in the menu that appears to the right of the Navigation Sidebar to continue to the PSA Inputs page. The PSA Inputs page is divided into two tabs: Distributions and Correlations.
Distributions
The Distributions tab allows you to select the parameters that you would like to include in a PSA, and the sampling distributions that should be used for each. Distributions are defined in tabular format, with each row representing one of the parameters defined on the Parameters Page, with columns as follows.
| | |
| --- | --- |
| Column | Description |
| Checkbox | Select/de-select whether a particular parameter should be included in a PSA. |
| Name | The name of the parameter (not editable on this page) |
| Description | The description of the parameter (not editable on this page) |
| Category | The category of the parameter (not editable on this page) |
| Base | The formula used to calculate the base case value of the parameter (not editable on this page) |
| Distribution | The formula to be used for the sampling distribution. Sampling distributions should be defined using the hēRo3 built-in sampling distribution functions. You may reference the base case value of a parameter here using the keyword, bc. No other variables may be referenced in this formula. |
TIP: Use the filter box to temporarily limit the rows displayed to selected items of interest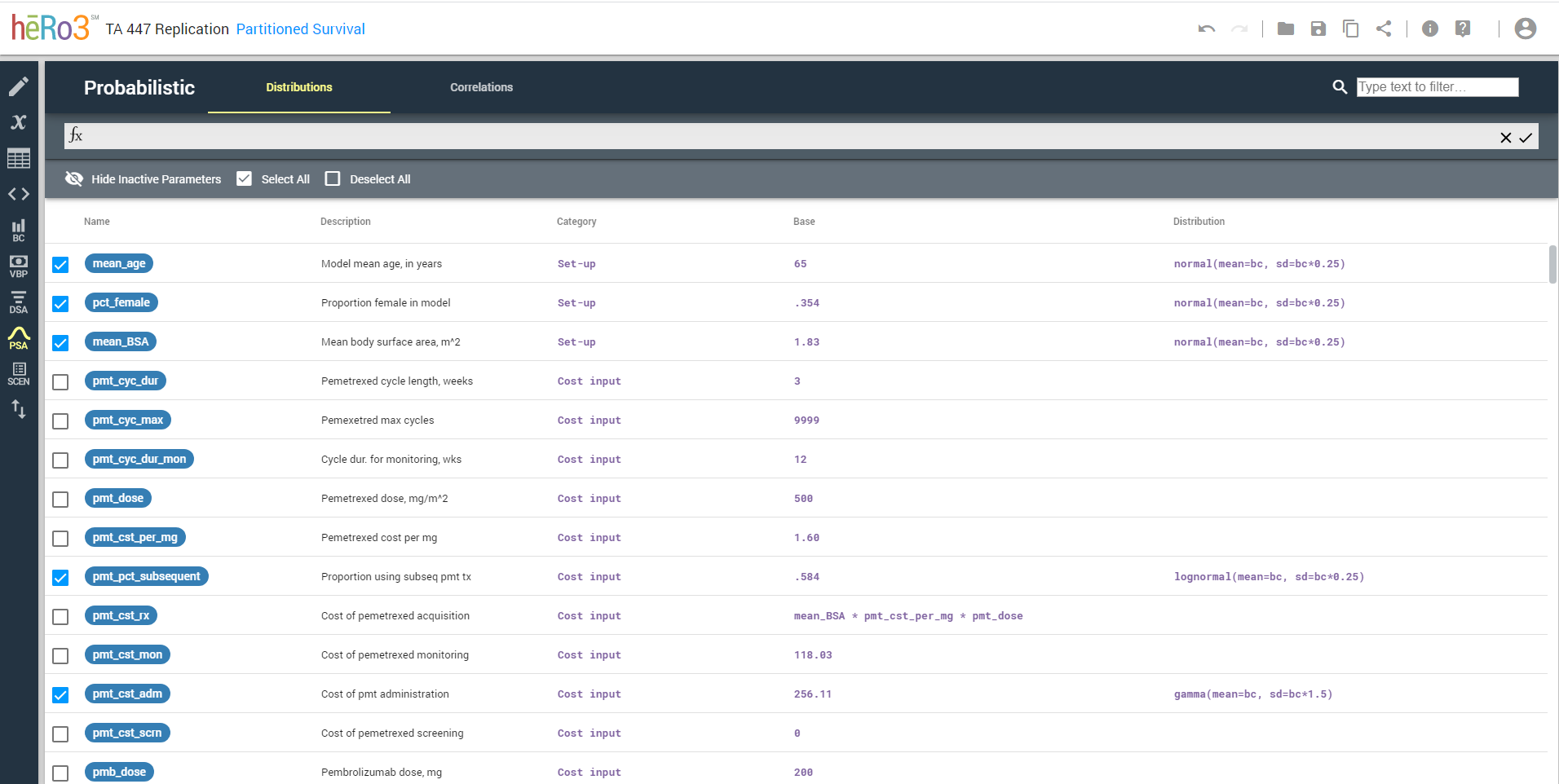 Correlations
The Correlation tab allows you to specify, should you want to do so, correlations between sampled parameters by specifying a correlation matrix. To add correlated variables, click "Manage Correlated Variables", check the parameters you want to specify as correlated in the popup menu, and click "OK". The selected variables will be displayed in a lower diagonal matrix, where each cell represents the pairwise correlation between the given variables. You need to specify a correlation coefficient, between 0 and 1, for each such cell. A value of 0 means that two variables are uncorrelated; a value of 1 means that they are perfectly correlated.